I was thinking, yeah, go figure, me thinking. Lol But seriously. I was thinking about trucking safety scores and how they should be on the fist page of every trucking company's website. So I went to several sites. I couldn't find the scores anywhere on the sites.
Why aren't the trucking safety scores front and center? Is it just me? I'm I the only one that thinks these are so critical. Or is it that they can be so volatile that companies don't want to have them front and center only to have to remove them from eyesight?
Here is a List of Excellent Carriers. There are an awful lot of name that I don't recognize. But there are some large companies listed. Kriska Holding and Warren Gibson are just two that I can see. The list is long, and I didn't go through the whole thing by any means. I did go to the websites for Gibson and Kriska. No mention of the safety ratings.
Who needs to be involved or care? Shippers for one. They are exposing themselves to legal liability if they don't care. If you don't believe me, see this case were CH Robinson was told to pay $23.7 million in damages.
Should truck driver care about the trucking safety scores?
Of course, they should, and I think they had better pay attention. When a carrier and their driver roll up to a scale, it is up to the officer to decide who to pull in for an inspection. Would you not rather be working for an Excellent Trucking Company that gets asked for checks much less frequently?
Drivers' need to be checking out the carriers before they apply to work for them. Too many truck drivers look work for a company for the wrong reasons. What are the wrong reasons you might ask? Well working for a company just because your buddy works there. That may be a great referral, and that friend may even get a bonus. But working for that company, is it right for you? Another terrible reason would be just because the company and the majority of the people that work there are of the same ethnicity as you. You can speak the same language as dispatch. You can more clearly understand instructions and directions, but that not a great reason to work for them.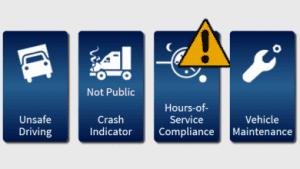 Don't misunderstand me. Working for your friend's company could be great. Being employed by a corporation with the same ethnicity as you might be awesome. To begin with, that is assuming that they are great companies.
One way to measure great companies are the trucking safety scores. If the company has been in business for more than two years, you should be looking at the safety ratings. In the interview, a driver should be asking "What is your Ministry of Transportation of Ontario (MTO) Safety Rating?" "What is the CVOR percentage of threshold?"
So back to the beginning of this post. Why are the excellent companies not bragging about their safety scores? Today, if I were a recruiter, I would be using my scores as a sales tool. It is so competitive to hire the right truck drivers. You need to use every tool in the toolbox.
Come On You Good Companies, BRAG About Your Trucking Safety Scores!